Culture FC Technique Football School is offering a 4-Day Camp for all members and non-members.
Camp will be fun and provide great development for all players.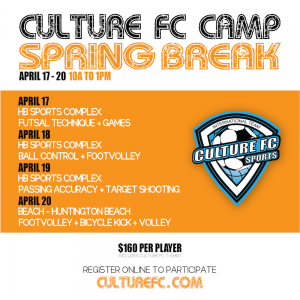 Camp Information
Days: April 17 to 20
Time: 10am to 1pm
Location: Huntington Beach Sports Complex + Beach (HB)
Age groups: All ages
Cost: $160 per player ($50 per day if not making all 4 days)
April 17
Futsal Technique + Games
April 18
Ball control + footvolley
April 19
Passing accuracy + target shooting
April 20
Footvolley + Bicycle kicks + Volleys
Benefits of the camp
Technique development

Skill improvement

Specific skills

Detailed training to help players auto-correct

Share their passion with other players and enjoy the game!
Register below or click on REGISTRATION FORM.