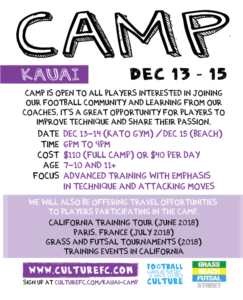 Register now to participate in our camp in Kauai!
Culture FC Football School invites you to participate in our football camp. Camp will include games, technique and futsal training, skill challenges, and lots of fun with Coach Adriano.  He will be using Futsal style training and providing a development program for players to continue working on their skills after the camp. Parents are welcome to come to a pre-camp conversation time to learn about Culture FC Program and opportunities offered to their kids. 
---
Camp Information
Location: Kato Gym (Futsal) and (Grass)
Date: DECEMBER 13-15
Age: 5 to 16
Online Price: $110 (deposit of $50) or $40 per session + $10 t-shirt
---
Schedule
Wednesday  6pm to 9pm (Kato Gym)
Thursday 5:30pm to 6pm (Learn about Culture FC Program) / 6pm to 9pm (Kato Gym)
Friday 4pm to 6pm (Beach – Salt Pond)
---
---
Register
---
---
What's New?
We will be introducing new technique skills and continuing our development from the previous camps.
It's important to note that every camp is different and provides new development tools to all players. Consistent training is the "key" to success and coach Adriano and Kalaheo FC made a partnership to provide consistent training and development programs to all soccer players in Kauai. Kalaheo futsal school is happy to share the many success stories with all parents and players looking to get involved with a soccer development program in the island.
Culture FC Technique School coach Adriano De Lima will be running the camp with great coaches.
---
Benefits of Futsal
Rewards-FIFA's Futsal rewards the same basic skills, tactics and knowledge of the game as the 11v11 outdoor game.
Ball Touches-In a statistical study comparing Futsal to indoor arena soccer with walls, players touch the ball 210% more often.
Ball Control-With limited space, an out of bounds and constant pressure, improved ball control skills and technique are required.
Speed of Play-With limited space, constant opponent pressure and a 4 second restart rule players learn to play and think fast.
Mandatory Support-Without a wall as an option, players must make supporting runs when their teammates have the ball.
Continuity of Play-Action is continuous so players are forced to continue the play instead of stopping and watching.
Knowledge-five players and all the basic options of the outdoor game in non-stop action mode, understanding of the game is enhanced.
Framing the Goal-The goal and Penalty Area are a perfect size for narrowing the angle so teams learn to frame the goal to score goals.
Encouraged Learning-FIFA's Laws Of The Game of Futsal, encourage playing a skilled game by punishing all physical contact fouls.
Technique-Futsal influences players to learn many technical abilities to become comfortable with the ball to improve confidence.
Fun-Players enjoy the challenge of playing a fast-paced-fun-skill-oriented game that test their abilities.
---
More information about Culture FC Technique School and camp registration – info@culturefc.com
More information about location, schedule details, and general questions – 808.651-9492