CULTURE FC FOOTBALL SCHOOL – BIG ISLAND!
Register now to participate in our Futsal and Technique Camp!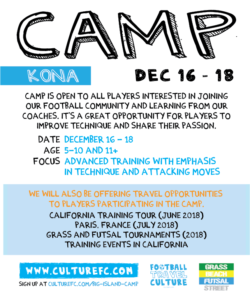 Culture FC will be in Big Island and wants to invite you to develop your skills and learn about our football training style. Our camp will offer technique and futsal training, footwork skills, and games. Futsal has been the main development option for many years in Brazil and many other countries offering great benefits and rewards to any player looking to excel at soccer. Camp is designed by coach Adriano Lima and Raphael Alves. They will be using Futsal style training and providing a development program for players to continue working on their skills after the camp.
We are adding a Keiki group to the camp to introduce the Culture FC training styles to players 5 to 8 years old. Coach Brandon will be working with the kids and providing a great atmosphere to help the players learn and enjoy the game. Register below to have your kid participate in the camp. Cost for the Keiki group is $85 per player. 
CAMP INFORMATION
December 16 (Sat) – 430pm to 6pm (Keiki) / 6pm to 8pm (Hockey Rink)
December 17 (Sun) – 10am to 1pm (Grass) / 11:15am (Keiki) / 530pm to 8pm (All groups – Old Airport Courts)
December 18 (Mon) – 4pm (Grass) – All ages
Online Price: Full camp – $135 (Includes t-shirt) or $50 per session + $10 t-shirt (optional) / $85 (Keiki Group – 5 to 8 year olds)
Payment by cash / check or through Venmo (@adriano-lima) / Paypal (payment@culturefc.com)
---
---
BENEFITS OF FUTSAL
Rewards-FIFA's Futsal rewards the same basic skills, tactics and knowledge of the game as the 11v11 outdoor game.
Ball Touches-In a statistical study comparing Futsal to indoor arena soccer with walls, players touch the ball 210% more often.
Ball Control-With limited space, an out of bounds and constant pressure, improved ball control skills and technique are required.
Speed of Play-With limited space, constant opponent pressure and a 4 second restart rule players learn to play and think fast.
Mandatory Support-Without a wall as an option, players must make supporting runs when their teammates have the ball.
Continuity of Play-Action is continuous so players are forced to continue the play instead of stopping and watching.
Knowledge-five players and all the basic options of the outdoor game in non-stop action mode, understanding of the game is enhanced.
Framing the Goal-The goal and Penalty Area are a perfect size for narrowing the angle so teams learn to frame the goal to score goals.
Encouraged Learning-FIFA's Laws Of The Game of Futsal, encourage playing a skilled game by punishing all physical contact fouls.
Technique-Futsal influences players to learn many technical abilities to become comfortable with the ball to improve confidence.
Fun-Players enjoy the challenge of playing a fast-paced-fun-skill-oriented game that test their abilities.
---
More information about Culture FC Technique School and camp registration – info@culturefc.com
More information about location, schedule details, and general questions – contact Coach Keone.
---