Playing Experience
Culture FC Pro Beach Soccer (USA)
SoCal Beach Soccer (USA)
OC Blues (USA)
Anaheim Bolts (USA – Indoor)
SD Sockers (USA – Indoor)
CD Atlas (Mexico)
World United Futsal (USA)
Nike Skills Team (USA)
IFK Göteborg (Sweden)
Flamengo (GRU – Brazil)
SC Corinthians (Brazil)
SC Corinthians Futsal (Brazil)
CESP Futsal Infantil/Juvenil (Brazil)
Cal State Fullerton (Div I College)
US Beach Soccer Team
Coaching Experience
Culture FC Travel Team Coordinator
Culture FC Sports Technique School Director/Owner
Beach FC
American United Coaching Director
American United – Reggae Boyz
His goal in coaching is to make all players aware of their unique ability to play the game and to be able to express their personality on the field. Players will develop the ability to play football with creativity and effectiveness helping them become premier level players. Adriano also uses futsal, beach football, and street football to help players improve their game and maximize performance.
Football Experience
Adriano De Lima began playing competitive football at a very young age. He grew up in Brazil and played with several professional teams including SC Corinthians Paulista and Flamengo (GRU). He has been traveling around the world as a football player and trainer since he was 12 years old. Adriano has played many national youth tournaments in Brazil as well as numerous international tournaments including Gothia Cup (Sweden), Dana Cup (Denmark), Norway Cup, Helsinki Cup (Finland), Nike Cup (Chile), Copa Intercontinental (Argentina), Chivas Cup (Mexico), Copa Sul-Americana de Juniors (Peru), Many US tournaments.
He began teaching the Brazilian training style to young American players since 1999. His philosophy includes the development of control, technique, game knowledge, teamwork, and of course, creativity. He holds a US and Brazilian coaching licenses and Futsal license as well.
Adriano became a member of the Nike Skills Squad, a street football team that traveled around the world promoting the sport. As a Nike sponsored athlete, Adriano was able to influence players and help the sport of football to gain more respect in the United States. He also participated as a player in the Club World Futsal Championships in Portimão, Portugal in 2006 as well as many National Tournaments in the US.
In 2007, Adriano Boys U19 traveled to England and France for their pre-season. It was a great experience that contributed to a great and successful season. Since then, Adriano has been traveling and introducing the football culture to players of all ages and levels through football training and cultural travel opportunities. His football school keeps growing and is now a great football foundation for many players in the US who want to develop their technical ability, passion and knowledge of the game.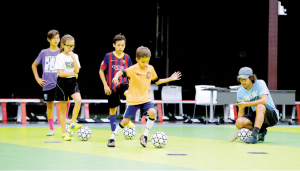 Adriano has now being taking teams and players, from youth to professional levels, to experience travel, culture, and training in vacation spots all over the world. His expertise in technique training has helped many players to learn the real essence of the game and appreciate football as a beautiful sport.
Check out options to travel with Adriano and Culture FC Sports TRAVEL
Adriano currently plays and coaches professional indoor/beach football in the United States. His technique school has being growing and attracting the interest of players looking to develop their technical ability.
Adriano has been featured in many commercials, ads, films, and documentaries involving football.